Spencer's Warrior Club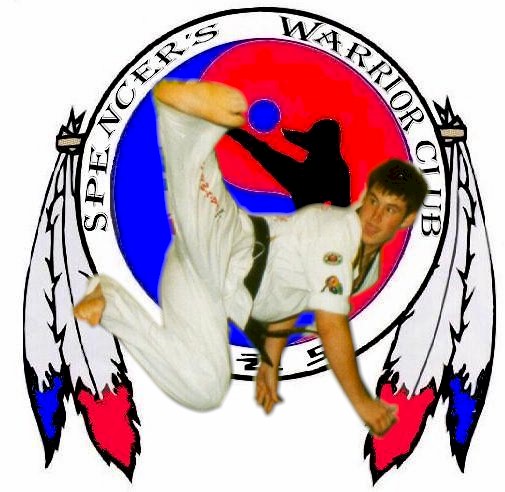 29 Sept 2009 will be my last day as the instructor at the YMCA. I will be retiring as a Tae Kwon Do instructor. It has been a great honor to have been a part of so many young lives for the past 14 years of teaching. God Bless you all!
Sincerely, 5th Dan Wayne Spencer
Color Belt Test at Triple T's-23 April 2010
Triple T's Sport Center-Instructed By: 3rd Dan Ron Gilbar Mon and Wed
Congratulation to the following: (left to right)
3rd Dan Ron Gilbar- 2nd Dan Brandon Oxton- Master Larry Winstead-3rd Dan Paul Baker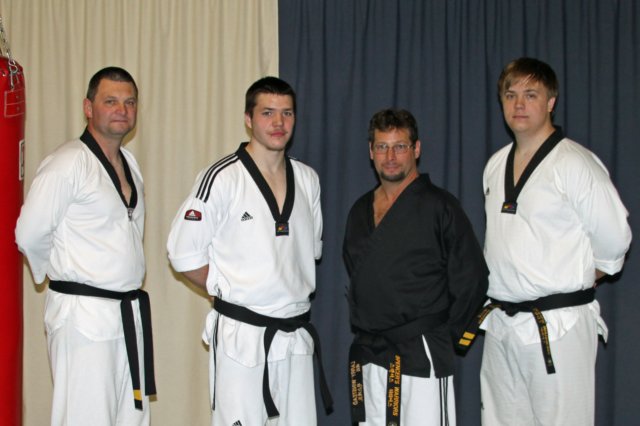 The following are Certified Black Belts from Master Wayne Spencer while under GM Bob Owens or GM John Pellegrini or Master Doug Grant
4th Dan Master Lance Morgan-Morgan's Martial Arts
4th Dan Susan Morgan-Morgan's Martial Arts
2nd Dan Bandon Oxton
2nd Dan Brain Strong
2nd Dan Scott Grayson
1st Dan Josh Waters
1st Dan Paula Waters
1st Dan Kathy Cooper
1st Dan Tony David
1st Dan Jonathan Boyle
1st Dan Ricky Dixon
1st Dan Alex Phelps
1st Dan Jerry Harris
1st Dan Justin Harris
1st Dan JD Demiel
1st Dan Mike Quirin
1st Dan Qmari Jackson
2008 Friendship Tournament-Congratulations to Master Jonathan Baines on winning double Gold! See photos and videos.
Christmas 2007-Pot Luck Dinner / Sports Banquet