YMCA Black Belt Test
November 23, 2002

This past Saturday morning at the Suffolk YMCA, Larry Winstead and Frank George took their 1st Dan Black Belt test in Tae Kwon Do after 5 long years of training. YMCA assistant instructor, Matthew Spencer took his 3rd Dan Black Belt test after 11 years of training. Larry is a 37-year-old NORSHIPCO employee, Frank is a 14-year-old 9th grader at NSA and Matt is an 18-year-old senior at NSA. In 1991 at the age of 6, Matt was enrolled in TKD at the YMCA by his mother.

The 4-hour test ended with each candidate having done numerous three-minute rounds of full-contact sparring of one on one with other experienced Black Belts. Finally they each had to survive rounds with two on one, three on one, 4 on one and 5 on one opponents. Multiple board breaking and block breaking concluded the test.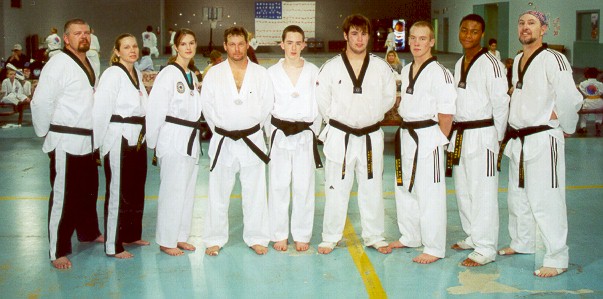 Thanks to all the Black Belts that participate all day Saturday: left to right
2nd Dans- Lance & Susan Morgan of Morgan's Martial Arts of Windsor
2nd Dan Lisa Archuleta
New 1st Dans- Larry Winstead & Frank George
New 3rd Dan Matt Spencer
2nd Dans Jonathan Baines & Jerry Plain
Wayne
click on pic to enlarge:


Color Belt Test Group